Some History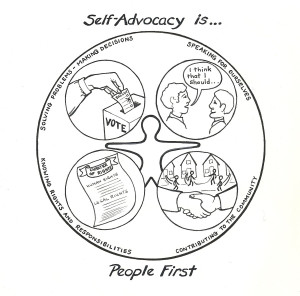 In Canada, the People First movement began in 1973 when Self Advocates came from all over North America to talk about their rights. For people with intellectual disabilities, their first issue was their right to live in the community – to get out of institutions. By 1974, the first People First Chapter was up and running in British Columbia. This first group was made up of men and women who lived in an institution and wanted to get out. They wanted to live in the community and have their voice, their choice, and their rights. For the next several years, People First groups began to form in provinces, territories, and communities across the country.
By the mid 1980s, there was a national office and a staff for what was then called the Self Advocacy Development Project. By the late 1980s, the official People First of Canada organization began. People First of Canada was incorporated on March 21, 1991.
Since that time, we have evolved as a movement and as a national organization. We continue to grow. We have progressed and advanced on many of our issues and priorities and we have watched our country, in large part due to our efforts, become leaders in inclusion.
Our work around human rights continues. People First brings the issues of deinstitutionalization, equal employment, inclusive education, citizenship, inclusion and meaningful community participation to tables around the country. We ensure that these issues – our issues – are priorities for government and community organizations.
People First is a movement and a message that is about change. It is about changing lives, opening minds, shifting attitudes, and increasing inclusive behavior. It is about giving people information, opportunity and support. It is about individuals and it is about society. It is about the changes we have made on so many levels.
Empowerment, inclusion, having a voice and making one's own choice are some of the changes individuals see when they become involved in the People First movement. Through mentors, at gatherings, when talking about past successes, and when planning future activities, individuals see what they can do when they have support and when they work together.  By supporting inclusion and becoming activists within the movement, individuals have seen their work result in changes in their own lives, in other's lives, and in our society.
Change is what the People First movement does. It changes individuals who become involved and it changes the hearts and minds of people who become aware. It lets our country and our society know where change is needed for labeled individuals and how they can help.
More information: