The founders of the People First movement in Canada were dedicated to a vision of inclusion and full citizenship. Over 30 years ago, individuals with intellectual disabilities came together and started People First chapters in their communities. Some of these individuals are still with us, and some of them have passed. But they have all had a lasting and profound effect on the People First movement and organization in Canada.
Patrick Worth (1955-2004)
"Take some time to reflect within yourself, it could be the most important thing that you could ever do for someone who has never felt the real, human, inclusive contact." – Pat Worth
Pat Worth is known affectionately as one of the 'godfathers' of the People First movement in Canada. He was an advocate for people with intellectual disabilities, co-founder of People First of Ontario, an author, speaker and consultant. He was a mentor and he was a friend. Patrick was born and raised in Oakville, Ontario. The news of his death was a shock and a great loss to all who knew Pat. Below are some tributes to this great man and his lifetime work.
Richard Ruston, Past President, People First of Canada:
Pat and I walked the same lifestyle. Pat was my mentor. He taught me a lot but the biggest thing he taught me about is respect. Patrick always had kind words to share about someone and always did things out of compassion.
Shelley Fletcher, Executive Director, People First of Canada:
I had the privilege of working with Pat over the past two years. Pat taught me more in that time about the human spirit than most people will learn in a lifetime. He challenged me, debated me, laughed with me, cried with me, and all the while never judged me. He was modest about the work he did, never losing sight of the people he was advocating for. When Pat and I would do workshops together, he would enter a room, this big, 'gentle giant,' and ensure that he personally connected with every person in that room throughout the course of the day. He touched many, many people all over the world, but died one of the most lonely people I know. Isolation and loneliness – no matter how many friends, colleagues, or acquaintances a person may have in their life, Pat taught me that if you are not at peace with yourself, nothing else matters. Rest in peace "buddy," you will be remembered always.
Jack Pearpoint, Inclusion Press International:
People First – always PEOPLE first. Organizer, Mobilizer, Empathizer. Pat felt the pain of injustice, but unlike most of us, he would pick up his cane, and his pen and begin to act. Pat was a leader in a modern 'underground' railroad to freedom. Thanks to his work – and his many friends nationally and internationally, the railroad to freedom is no longer so invisible. More people are on it. But there are too many people still waiting for their glimpse of freedom. That was Pat's gift and vision. It got him up in the morning – and will push us to partner and continue his relentless advocacy so that no one is left behind. We owe him that.
Keith Powell, Community Living Ontario:
Pat meant a lot to a lot of people. He was a champion who had our deep affection and support. He had a unique ability to relate to his colleagues as a fellow advocate and at the same time make a meaningful connection with people. I was impressed with the clarity with which he could present the issues and the power of his conviction. It was very clear how motivating that was for the people who listened to him. He was a wonderful speaker and good trainer. He was a superb diplomat. Patrick was also a man with a good sense of humor, who was patient with people but intolerant of inaction or abuse. Patrick traveled to Europe and Latin America, representing the issues facing people with intellectual disabilities. Patrick was an advocate for closing institutions and said he wouldn't be 'free' until the very last person was transitioned into life in community.
Peter Park
Peter Park is also known as a 'godfather' to the People First movement. Peter began his involvement with People First almost 40 years ago and continues to be involved on many levels today. Peter was institutionalized for 18 years of his life and firmly believes that no people with intellectual disabilities should be living in an institution. Along with being a co-founder of the People First movement in Canada, Peter has also served the organization as National Director, along with serving on more committees than can be counted.
Peter believes in positive change and has seen many of his visions for inclusion become reality. Peter has received several awards and honours for his volunteer and advocacy work including the June Callwood Outstanding Achievement Award for Voluntarism, and the Queen's Diamond Jubilee Medal for his significant contributions and achievements towards inclusion. Peter lives in Toronto with his wife of 32 years, Rhea, and continues to work for the rights of all Canadians with intellectual disabilities.
Paul Young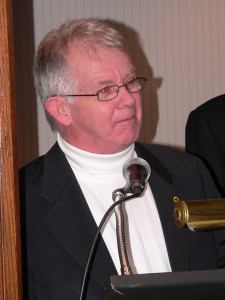 Paul Young is another founding member of the People First movement. Paul was born in North Sydney, Nova Scotia. When Paul entered school, he was put in a segregated class. Paul states that "this is where I learned that I had a disability." Paul went from segregated schooling to a sheltered workshop for the next 12 years before finding a career he loved in radio.
Paul was involved with a local cross-disability organization when he first heard of People First. He met with some members and began to develop People First of Nova Scotia. Paul then got involved with the national organization, People First of Canada and is a former President. Paul is a nationally and internationally known self-advocate and motivational speaker. He has spoken as a panelist, a participant, a leader, and a consultant on disability issues and has addressed The Hague, Netherlands, during his career.
Paul lives in Nova Scotia with his wife of over 25 years, Marilyn.
John Cox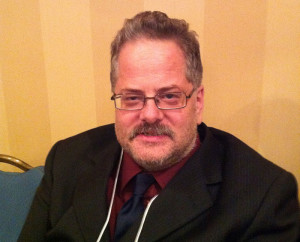 John Cox was born and raised in Nova Scotia. John has a wealth of personal and professional experience that spans many areas. John has been an activist for persons with intellectual disabilities for over 25 years. He has been involved in many projects and activities that have had real and lasting impact on the lives of labelled individuals. John is a long-time member and leader in the People First movement, and a founding member of the Nova Scotia provincial chapter.
John firmly believes in the power of self-advocates stories and how individuals become empowered by sharing their stories with one another and knowing they are not alone. John has been the recipient of the Alan Thomas Fellowship Award and has written a booklet about the People First movement called Getting Included: How Labeled Individuals Have Impacted Inclusion. John lives in Halifax, Nova Scotia.
Gordon Fletcher
Gordon Fletcher got involved in the People First movement in the late 1970s at the local level – in his community in British Columbia. Gordon was one of the first leaders of the movement in his province and was involved in growing the movement until a provincial chapter was formed. Gordon soon started connecting and working with the national volunteers and staff when it was known as The National Self-Advocacy Project. He became involved in the process that saw The National Self-Advocacy Project become the organization known today as People First of Canada.
Gordon believes that some of the most important work of People First of Canada has been in the legal system and include cases like the Eve case, the Emily Eaton case, and the Latimer case. Gordon believes in the values of self-advocacy and that it is a necessary movement that will take time to develop its full potential. Gordon lives in Trail, British Columbia with his wife Sherrie and enjoys working there and being involved in other community minded organizations in his hometown.
Richard Ruston
Richard Ruston is one of the founding members of People First of Windsor and has served on the People First national Board for several years, and is proud of his term as President of the organization (2008-2011). Richard believes in and promotes the rights of people with intellectual disabilities to make their own decisions, to choose where they live, to have real work for real pay, to have the opportunity for education, and to have enough money to live a life with dignity.
Richard is an accomplished speaker and has presented locally, provincially, nationally, and internationally. Richard has received many awards for his work throughout the years, including the Canadian Association for Community Living President's Award for special contributions in community living, and the Shelia French Award for contributions to an accessible community. Richard has also been awarded the Queen's Diamond Jubilee Medial for his contributions to the disability community. Richard lives in Windsor, Ontario and continues his work with the People First movement.
Presidents of People First of Canada
The leadership of People First over the years has included some very impressive and active individuals with a vision of an inclusive country and a drive to see that vision become reality. We are proud of our legacy and those who worked to make the movement and the organization what it is today.
Presidents of People First of Canada
Denis Laroche (1991-1994)
Paul Young (1994-1998)
Catherine Fortier (1998-2001)
Gordon Fletcher (2001-2004)
Heather Tracey (2004-2006)
Shane Haddad (2006-2008)
Richard Ruston (2008-2011)
Shane Haddad (2011-2014)
Kory Earle (2014-2017)